Day of Death
Today is the day the rats are being euthanized and their organs harvested for cellular analysis.

I'm terribly sad - I've been working with these boys for about 5 months now. As stressful as it was at some points, I nevertheless grew to love the little guys. I was there when they were born, yet I couldn't bring myself to be there when they die. Watching them get put in the rat-guillotine would just be too much for me to bear.

My thesis supervisor understands, and she told us we could bring the rats a little treat before they're euthanized. I bought a bag of M&Ms on my way to class this morning, and took it with me to see the boys. I gave them all a hug and a kiss, and a few M&Ms, and left. It's the last time I'll see them.

This is Jeff, wet after being put in the water maze. We love him, even if he was a psycho gay molester rat.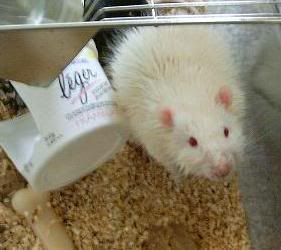 This is a bunch of the boys as babies, a few weeks old:



R.I.P boys, we'll miss you.

Thankfully reading week (spring break, just not in the spring) starts tomorrow - to cheer me up and provide a temporary relief from the Hell that is Waterloo.

Listening to: Warning - Incubus