An Ample Dose of Cynicism
Are things really so much better today than they were 50-60-70 years ago? I'm really not sure.

A lot of people who were born around the same time as myself, the early 80s, and who were raised in similar middle to upper class environments, have been fortunate enough to lead fairly privileged lives. As such, this privilege, whether we are conscious of it or not, has shaped how we interpret the world around us. Because some of us grew up in quite egalitarian communities, a lot of us seem to think that things are generally like this all over. It's ignorance, but it is not a malicious form of ignorance. I think it speaks to the benefits that we have been lucky enough to experience in our lives. Unfortunately, it limits us from really appreciating the reality of our culture, and consequently limits us in working towards making any changes.

Yes, there are many many instances of improvement. I cannot and will not deny this. The simple fact that I am attending a University, about to graduate and continue on to a PhD, speaks loudly and clearly for itself. However, I cannot and will not deny the fact that there are many many instances that desperately still need improvement. I experience this on a daily basis, most often in simple discussions between individuals. There is still so much ignorance, and deeply ingrained beliefs, that still persist from 50-60-70 years ago.

The reason for this rant: Dr. Summers, the President of Harvard University, recently provided a shining example of what I'm talking about.

"
At the Jan. 14 conference, at the National Bureau of Economic Research, a nonprofit economic research organization in Cambridge, Dr. Summers angered several of the women present, one of whom walked out, by suggesting that innate gender differences may explain why fewer women succeed in science and math careers.
" (
Source
)
"
Dr Summers had told the private conference on the position of women and minorities in science and engineering that women's reluctance to work long hours because of child-care responsibilities was behind them not performing as well in the sciences. He also said boys outperform girls on high school science and maths scores because of genetic difference. As an example, he told the conference about giving his daughter two trucks. She treated them like dolls, and named them mummy and daddy trucks, he said.
" (
Source
)
The fucking President of Harvard University. Arguing for genetic based inferiority of women in science. Priceless. Of course he's recanting like a son of a bitch, but that means nothing: he said what he said because he believed it.

Have things changed? Yes. Have they changed significantly? No, I don't think so. It wears me down, it makes me sick, and it's so hard to fight against when it's so deeply ingrained the minds of so many people. Even women themselves: the ones who know nothing about feminism, but are so afraid of what they think they know about it. "I'm not a feminist, but...". It's so frustrating.

Some days I feel like there's a chance for things to change. Then something like this happens, and I realize how pointless it is to hope. I think I need another Cosmo: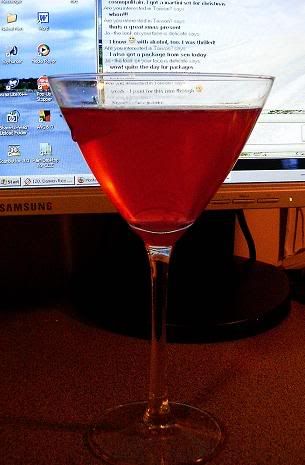 Listening to
:
Shit on the Radio
- Nelly Furtado